CMU-SV students partner with tech titans
Staff writer
Apr 20, 2020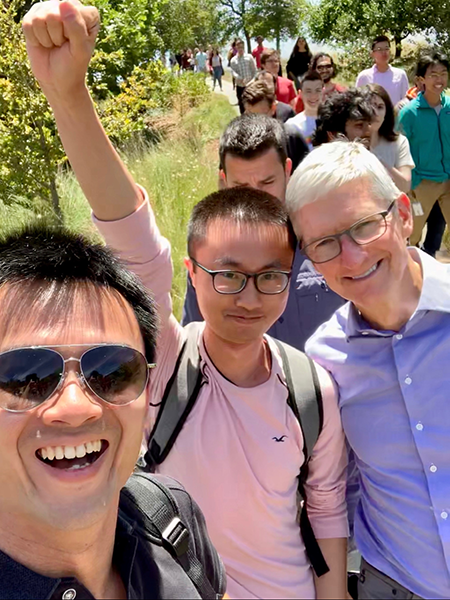 Students enrolled at Carnegie Mellon Silicon Valley (CMU-SV) have the unique opportunity to study in the Bay Area of California—a place that is booming with technical discovery and entrepreneurship. In the Integrated Innovation Institute and Information Networking Institute (INI), students also get the opportunity to work in their fields with major tech companies who partner with CMU-SV for internship, research, and networking opportunities.
Two such companies are Apple and Volvo. Jenny Elfsberg, the Director of Volvo's Innovation Lab Hub US says that they are excited to work with CMU-SV students because they "successfully work together throughout the co-creation process. This is a skill set that is extremely important for the future of Volvo and something that is not taught at all universities... There is a balance of the students' depth of knowledge and expertise, along with the ability for collaboration and successful teams."
Bicoastal INI students and some Integrated Innovation students, depending on their degree, start their academic journey in Pittsburgh on CMU's main campus. After a year of study, INI students complete a three-month summer internship with a tech company, often in the Bay Area, before continuing their second academic year at the CMU- SV location. Not only does the internship provide students with invaluable real-world experience and access to professional mentorship; but, it serves as their introduction to a new home.
Yixin Bao is in his final semester of the MS Information Technology Mobility program in INI. His introduction to the West Coast was as a software engineering intern at Apple working on Bluetooth Core projects such as
AirPod connectivity. "It's a very smooth transition," says Bao. "One of the
reasons I applied to this program is because I get to study in Silicon Valley, where you meet more people from industry and you get more opportunities for things like job applications."
Bao is excited to graduate in the spring and return to Apple full time in the summer to start his career. Like him, many CMU-SV students go on to work in the Bay Area, sometimes with companies where they previously interned.
Integrated Innovation student Ida Wang is currently in the MS in Technology Ventures program with an expected graduation date of December 2020. Her introduction to the
Bay Area was with Volvo's Connected Solutions Innovation Lab as a solution developer intern exploring local traffic infrastructure. She noted that, for an international student like herself, the fact that companies are prepared to work with CMU-SV students made her transition much easier than it could have been.
"Through Integrated Innovation, we have access to corporate sponsors, so this is a bonus point for me. It's especially nice for international students," adds Wang. She explains that companies have been very supportive of international students, who sometimes run into challenges with securing jobs or internships.
Internships are just one of the many ways that CMU-SV supports student engagement with the vibrant industry surrounding them in the Bay Area. Both Integrated Innovation and INI lead tech treks to visit local companies, host corporate speakers on site, and conduct events such as hackathons and networking nights to fully enrich student lives with professional opportunities that abound in the region.