Gifting in augmented reality
Amanda S.F. Hartle
Jan 6, 2023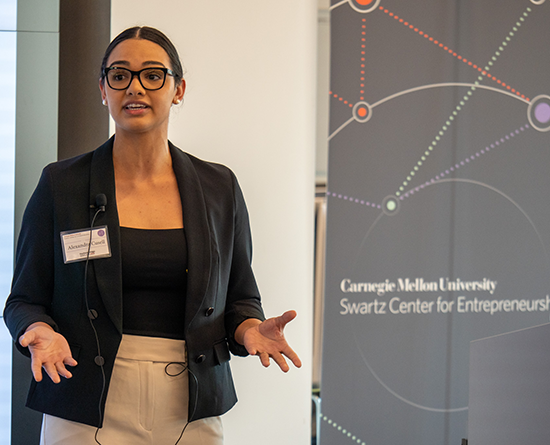 Carnegie Mellon University alumni don't just imagine the future, they create it.
During November's National Entrepreneurship Month, the university celebrated the Tartan entrepreneurs around the world who are bringing groundbreaking ideas to market and building successful startup businesses.
To date, the CMU community has launched more than 400 startups and created more than 152 spinoff companies.
"Carnegie Mellon offers incredible support to our students, faculty and alumni startups that help set them up for entrepreneurial success," says Dave Mawhinney, executive director of CMU's Swartz Center for Entrepreneurship and Donald H. Jones Center for Entrepreneurship and associate teaching professor of entrepreneurship.
"The Swartz Center for Entrepreneurship supports programs specifically designed to help our alumni get customers, talent and investment. These include VentureBridge, the CMU Tech & Entrepreneurship Alumni Group and 99Tartans. We are proud that Carnegie Mellon is recognized as one of the top entrepreneurial universities in the world today and even prouder of the achievements and accomplishments of our Tartan founders."
As Jisell founder and Class of 2022 alumna Alex Cusell looked over a pile of gifts from her wedding shower in advance of a cross-country move to pursue her degree at Carnegie Mellon University in Silicon Valley, one type of gift rose above the others.
"Despite my friends and family having the absolute best intentions, we ended up with a lot of gifts that just didn't work for us as the last thing we wanted right then was more stuff," Cusell says. "It became clear that the front runner in all of this was gift cards."
But she quickly realized, even the 20 or so of those she had weren't the perfect gift either. The small pieces of plastic cluttered her wallet. She couldn't remember how much money each one was worth. She forgot to use them when shopping.
The seed for her company was planted in her mind as she pursued her master's degree in technology ventures from the Integrated Innovation Institute, or as she calls it "a crash course in entrepreneurship."
"I decided to solve two problems: make gift cards exciting, thoughtful and personal to give with an augmented reality experience and create a universal gift card e-wallet."
Jisell has solved the digital wallet problem and launched in Apple's App Store a few months ago. Users can now digitize all their physical gift cards in one app and redeem with a barcode scan. Alex expects to launch the company's AR component this fall.
CMU was the first investor in Jisell, and the support has been beyond anything I could ever have imagined.

Alex Cusell, Jisell founder and class of 2022 alumna
"My biggest challenge and greatest success so far is the same answer: people," Cusell says. "Anything worth having doesn't come easy, but the greatest blessing of my entrepreneurial journey has been the group of amazing people around me."
She was chosen as a 2021-2022 Swartz Entrepreneurial Fellow, and the company was part of the summer 2022 VentureBridge cohort. VentureBridge, an initiative of the Swartz Center for Entrepreneurship that provides seed funding, office space and networking opportunities with mentors and investors, among other benefits, has connected Cusell with the CMU community's expertise from idea to launch to updates.
"CMU was the first investor in Jisell, and the support has been beyond anything I could ever have imagined."
Alongside her team of Frank Xia, Panchaporn Eungrattanakorn and Siddartha Varma, Cusell looks to the future as she also leans on her past for inspiration. Her mother immigrated to the United States from Cuba as a young child. She didn't speak English, and she knew few people.
"Despite these challenges, she worked tirelessly to achieve the American dream and even started a few of her own companies," Cusell says. "Her products were sold at Jo-Ann Fabrics and Crafts and Walgreens and on QVC.
"Seeing her ambition taught me that I never wanted to do anything that I didn't love with my whole heart."
To learn more about the Tartan entrepreneurs, read the full story.