CMU-SV alumni in their own words
Alexandra George
Apr 10, 2019
Alumni from CMU-SV are impacting industries through top positions at companies in Silicon Valley and across the world. As the campus approaches its inaugural alumni reunion, some recent alumni shared reflections on their CMU-SV experience and how it has helped them on their path to where they are now.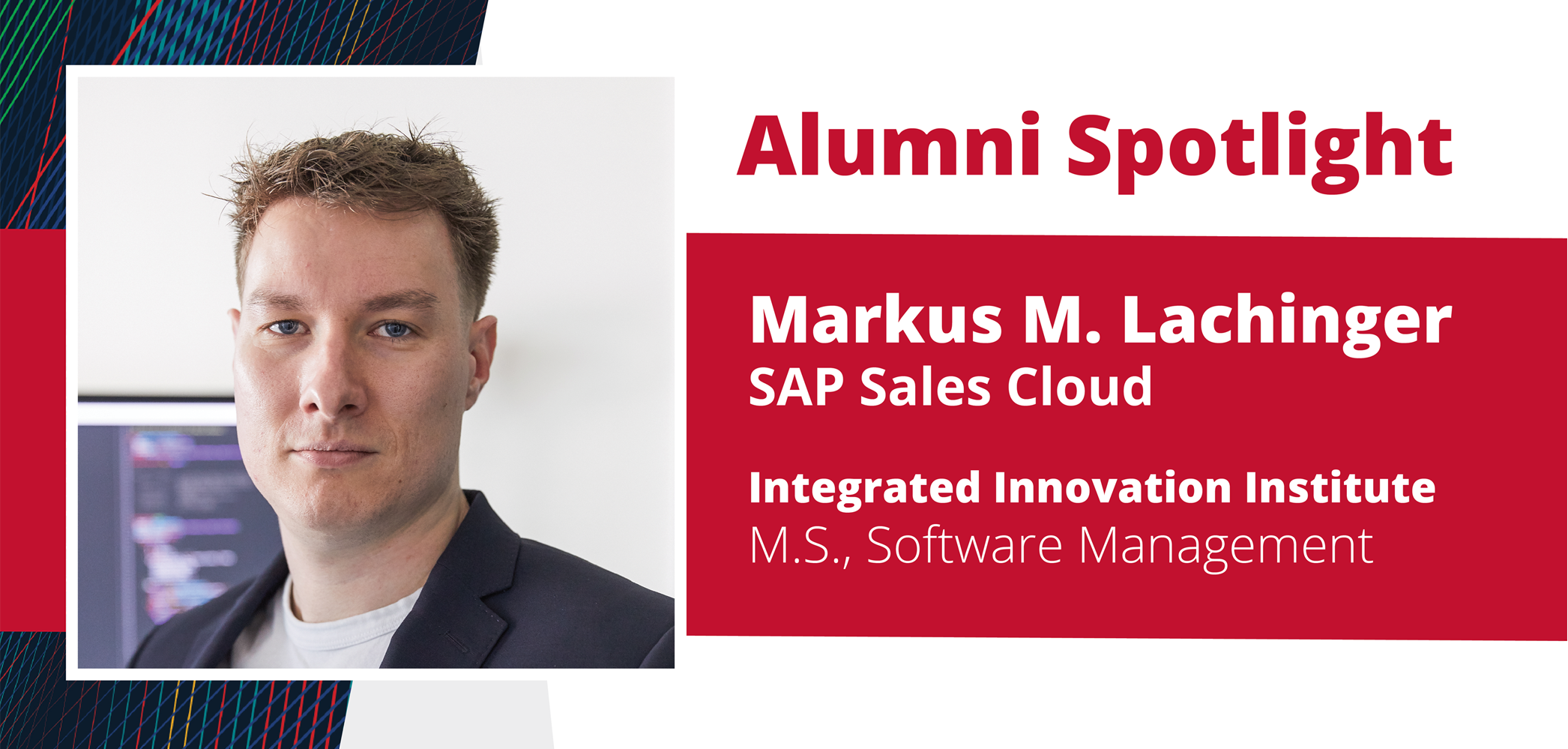 Markus Lachinger was a software engineer from Germany who became an entrepreneur in Silicon Valley. He co-founded CominBin, a digital comics subscription platform, after graduating from the Integrated Innovation Institute's software management program at CMU-SV. Now, as VP of Engineering at SAP's Sales Cloud, Markus is leading teams at one of the largest global enterprise software companies in the world.
You get out what you put in. Luck happens when preparation meets opportunity. Many opportunities will turn up for you if you are willing to go beyond what is explicitly asked of you and are open and committed to finding ways to improve yourself, your team, and your product.

Markus Lachinger , VP of Engineering, SAP Sales Cloud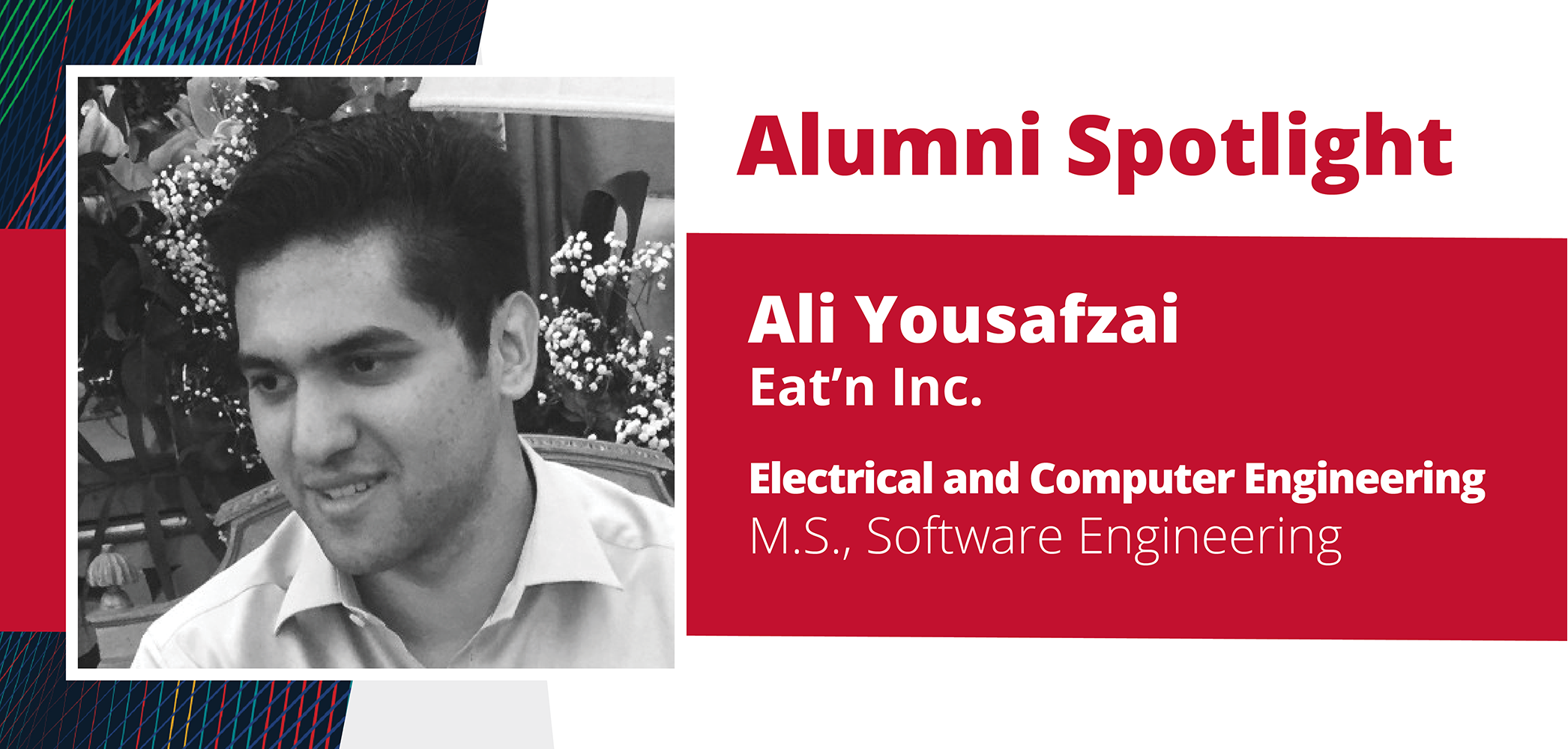 Ali Yousafzai received a master's degree in software engineering from Carnegie Mellon University Silicon Valley in 2017, after completing his undergraduate studies in electrical and computer engineering (ECE) at Carnegie Mellon. After graduation, he founded Eat'n Inc., a startup whose app uses artificial intelligence to create a seamless food ordering experience.    
Carnegie Mellon has played a huge role in opening up multiple opportunities for me. I was a software engineering major but I had always wanted to start a company. My fellow professors and staff at CMU played a huge role in guiding me through that process. I started my startup right after graduation and it's been the best decision I've made. My advice to current students is to find out what exactly you want to do in life and then work hard towards it.

Ali Yousafzai , Founder, Eat'n Inc.
Lin Sun is currently a software engineer at Facebook. She received a master's degree in ECE from CMU Silicon Valley in 2017. She loves traveling and learning new things.
I really had a great time when I was at Carnegie Mellon Silicon Valley. My advice to current students would be to learn as much as you can when you are studying at CMU. Not only learn knowledge that will be useful in your future work, but you should also learn good things from people around you. Everyone at CMU is awesome and you can always learn a lot from others.

Lin Sun , Software Engineer , Facebook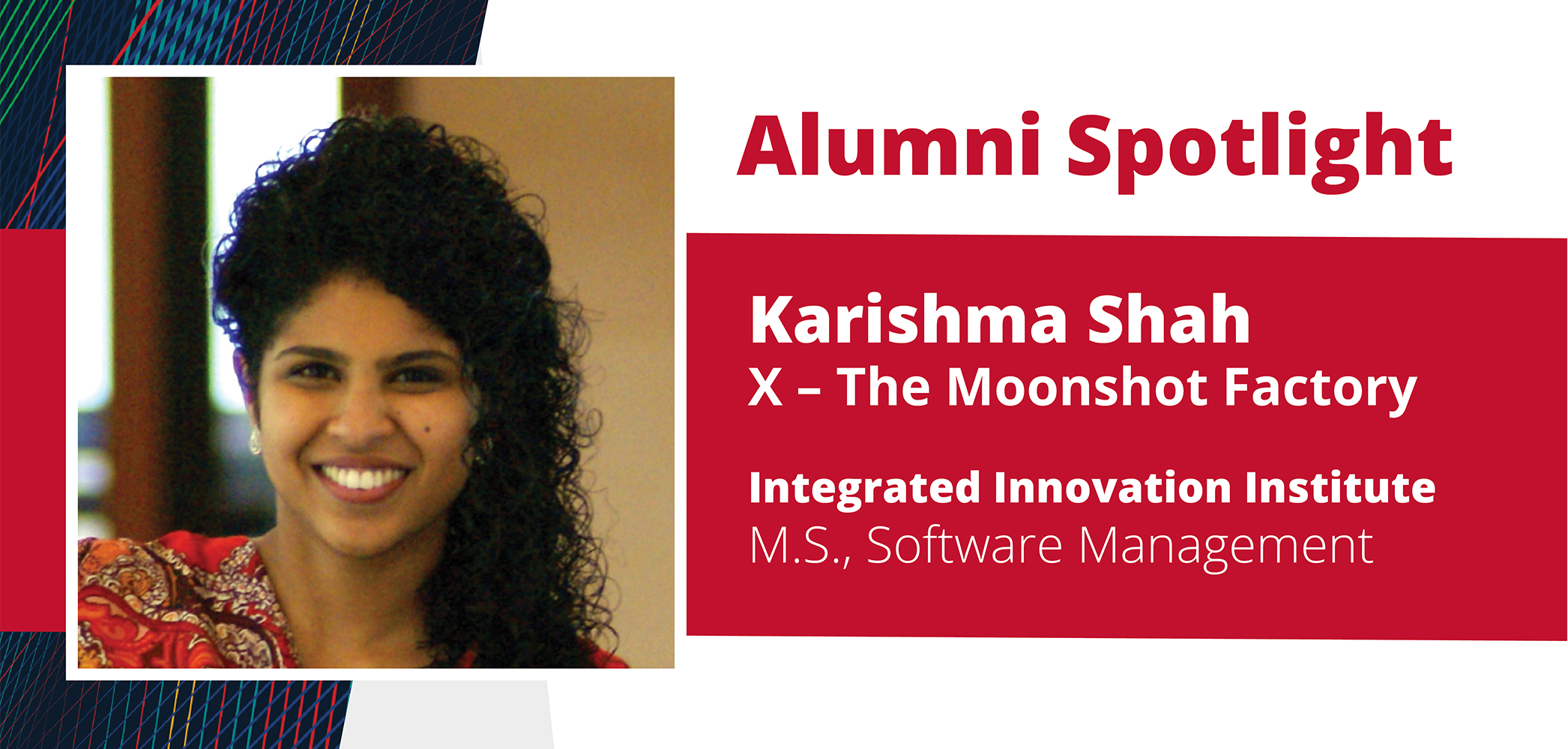 For the past 6 years, Karishma Shah has immersed herself with deep technologists at Alphabet's X, the moonshot factory, to solve some of the world's most pressing challenges. In 2016, Karishma was honored as one of Forbes' 30 Under 30 in consumer tech for her contributions to the technology industry. She received a master's degree in Software Management from the Integrated Innovation Institute at CMU Silicon Valley in 2017.
I feel fortunate to have had the opportunity to learn from industry professionals in software management with diverse experience in Silicon Valley. Their unique insights into how to build valuable products and grow sustainable businesses have helped me become a better leader.

Karishma Shah , Chief Catalyst , X, The Moonshot Factory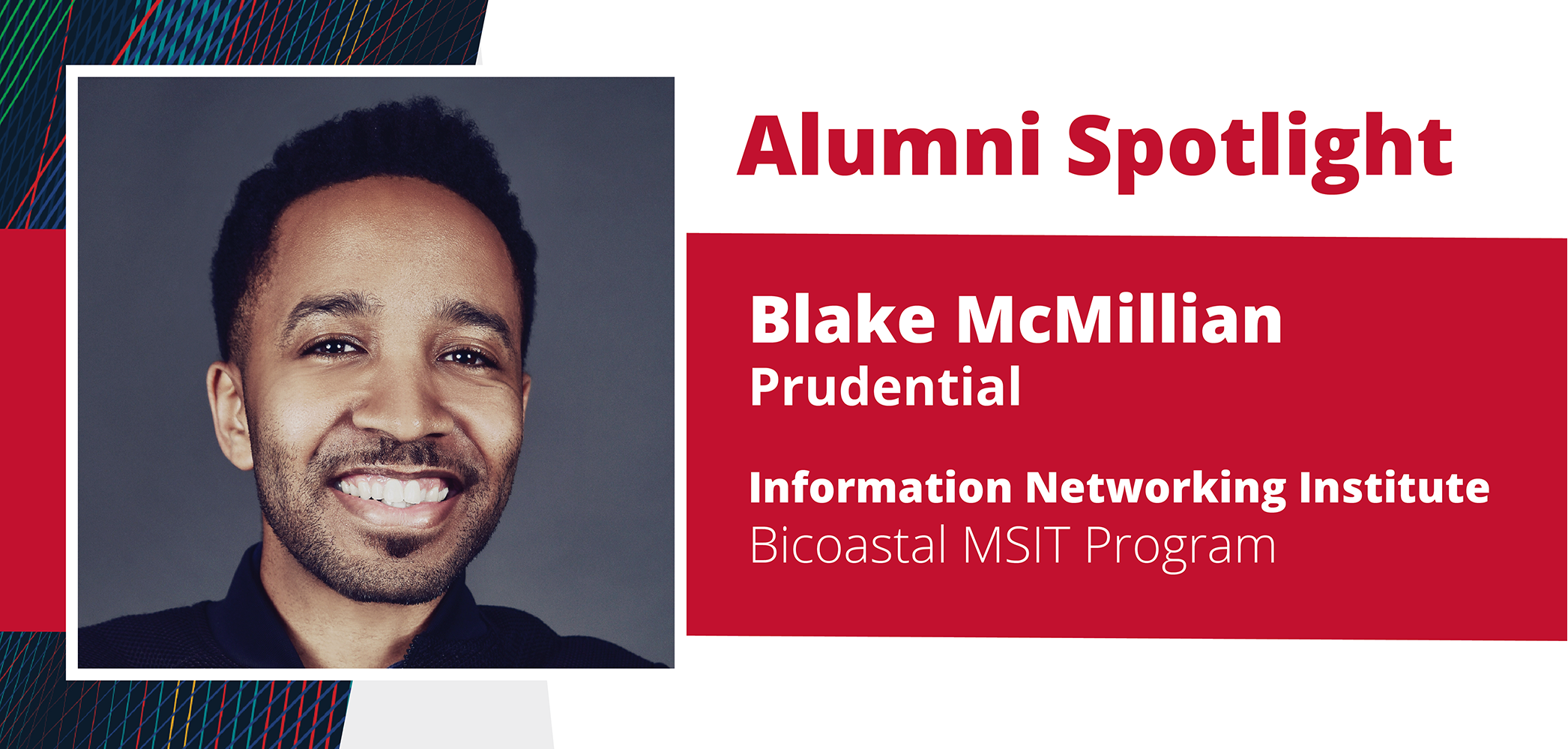 Blake McMillian attended the INI as a GEM Fellow, sponsored by Intel, and graduated from the Information Networking Institute's (INI) bicoastal program in 2017. Today, Blake is a platform engineer with Prudential where he's responsible for maintaining and enhancing the front-end web applications owned by Prudential's platform teams.
The INI broadened my perspective and endowed me with a sense to approach problems and roles with a greater sense of enthusiasm. The bicoastal program added an interesting twist to my INI experience. The sense of community, and beautiful environment, made for an exciting final two semesters. I feel there's a level of intensity in being a student. At times things can seem overwhelming, with highs and lows. Somehow, it's transformative.

Blake McMillian, Platform Engineer, Prudential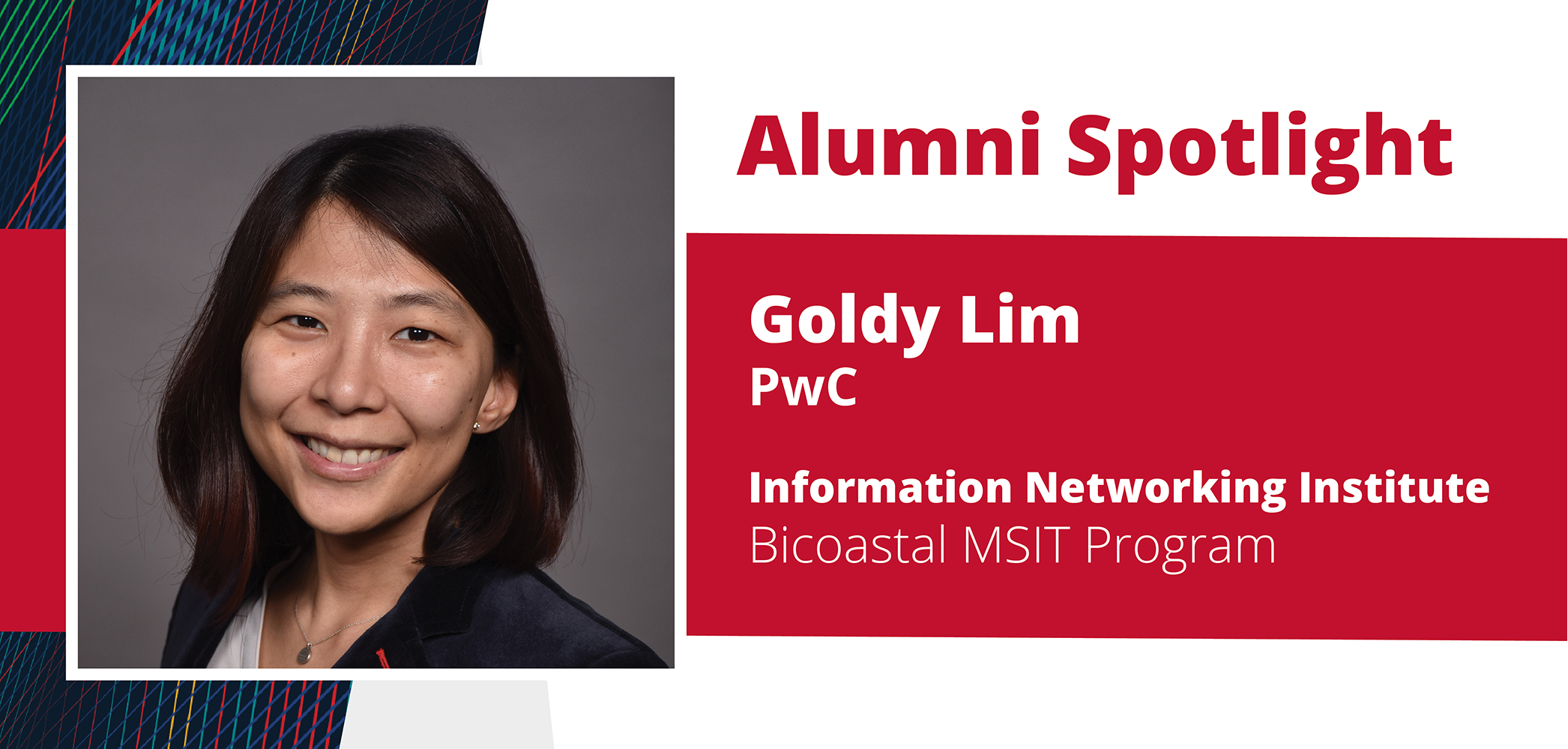 Goldy Lim chose the INI for its reputation of academic excellence and the opportunities afforded in the bicoastal information security degree. Today, she's a cybersecurity associate at PwC, where she provides professional consulting services to clients to enable them to develop or implement cybersecurity processes, tools, and controls.
The bicoastal degree was a great opportunity to both learn the technical skills I needed and practice them in real-life projects with Silicon Valley companies. The INI gave me not only the knowledge and skill set to be a success in my field, but also a network of peers I can rely on for help and support. Having the INI (and CMU) legacy is priceless—when people hear about where you come from, they know that any work you do will always be delivered with excellence and quality.

Goldy Lim , Cybersecurity Associate , PwC
Join us for the inaugural CMU-SV Spring Alumni Reunion on Wednesday, April 17th 6:30-8:30 p.m. on campus in Building 23.